Looking for SaaS Company? You definitely need to check this SaaS Services:SaaS application development Services
What is the most appropriate business model for SaaS? How can it significantly improve business growth? And why is it important in today's digital landscape? The answers to these questions are vital to understanding and harnessing the potential of Software as a Service (SaaS) in propelling businesses into the future.
Despite the notable advances in the tech industry, the lack of a suitable business model for SaaS still persists as a significant problem. According to Gartner, cloud usage will continue to amplify, whilst CRN suggests that adopting accurate SaaS business models can help in effective monetization. By addressing this shortcode, businesses could gain a competitive advantage through higher efficiency and lower costs. The proposal is, therefore, to adopt the best business model that aligns with the SaaS vision, goals, and market demands.
In this article, you will learn more about appropriate SaaS business models, and how to pick the best one for your organisation. You will be guided through an in-depth analysis of the pros and cons of each model, along with expert insights and real-world examples that can inform your decision-making.
Understanding and adopting the right business model is not just about achieving short-term goals or generating quick revenue. It is about ensuring long-term sustainability and growth in a fast-paced and increasingly digitised business environment. This article will provide actionable insights to help your SaaS firm thrive in the ever-evolving digital landscape.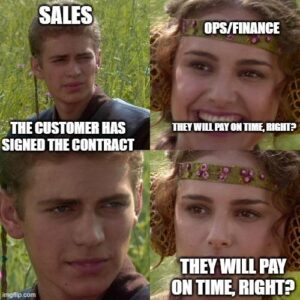 Key Definitions Associated with the SaaS Business Model
SaaS stands for Software as a Service. It is a business model that allows customers to access software over the internet, often referred to as 'on-demand software'.
Under this model, software providers host and maintain the servers, databases and code that constitute an application. This is a significant departure from the on-premise software delivery model.
Payment in the SaaS model is typically subscription-based, meaning customers pay a fixed amount regularly to use the software instead of a one-time purchase.
Breaking the Conventional Norms: Embracing the Revolutionary SaaS Business Models
Shifting to a Subscription-Based Approach
The Software as a Service (SaaS) model, with its recurring revenue system, is forcing businesses to reconsider conventional strategies. While conventional strategies often rely heavily on one-time purchases, SaaS follows a subscription-based approach. By breaking down the traditional large, up-front costs into smaller, regular payments, companies can simplify their financial planning. It makes significant value propositions by providing continuous updates, improvements, and support inherent to the subscription price, fostering a more synergistic relationship between providers and customers.
The Power of SaaS in Customer Retention
The SaaS model offers a unique approach to customer retention and growth. Unlike the traditional sales model, where the relationship with the customer typically ends after the initial sale, the SaaS model allows companies to maintain continuous engagement with their customers. This ongoing interaction can lead to improved customer service and higher satisfaction rates, leading to long-term customer loyalty.
The following are some of the critical benefits the SaaS model offers in relation to customer retention:
Streamlined updates: Companies can more readily provide customers with the latest software enhancements and security fixes, ensuring a more updated, secure, and better product.
Greater transparency: Subscription models allow for transparent pricing, giving customers more control and predictability over their expenditures.
Enhanced customer service: Continuous customer interactions allow firms to better understand their client's needs and adapt their products or services accordingly.
Facilitating Scalability and Risk Mitigation
The SaaS business model is a game-changer for traditional strategies due to its scalability and risk mitigation capabilities. SaaS allows businesses to scale the use of their software based on the user's requirements, enabling companies to expand or diminish their usage depending on demand. This model saves businesses from getting tied into lengthy, costly contracts and reduces the financial risk linked with large-scale software investments.
In essence, the SaaS business model disrupts traditional strategies with its subscription-based approach, customer retention capabilities, and scalability. Its capacity to provide continuous service updates, enhanced customer service, and minimized financial risk positions it as a transformative force in the way businesses operate. This model not only changes the relationship businesses have with their customers but also how they perceive their product and service offerings. The SaaS model is an innovative approach to business that other sectors could learn from, as it fosters stronger connections, greater flexibility, and a more consistent flow of revenue.
From Subscription to Success: Unfolding Profitable Dynamics behind SaaS Business Models
Groundbreaking Discussions: Disrupting the Market with SaaS
Can the SaaS industry surpass the realm of profitability and achieve undeniability in terms of sustainability? The answer is a resounding yes! This is because SaaS, or Software as a Service, offers a subscription-based approach, compared to the traditional outright purchase method. This recurring revenue model assures a steady flow of income for the company and always keeps it in the black. What's more, since the customer pays for the service periodically, this allows for regular interactions, thereby building strong customer relationships. This leads to higher customer retention and acquires a customer lifetime value which far outplays the initial customer acquisition cost.
The Hurdles on the Path to Glory
Yet, the journey towards profitability and sustainability in the SaaS model is not devoid of difficulties. Foremost, as the technology keeps on advancing at an unprecedented speed, staying relevant and up-to-date is most imperative. But it demands considerable financial investment and constant research and development efforts. Another significant challenge is the switch from a single-sale to a subscription-based model. This transition could result in immediate revenue downfall as the earnings are now spread over longer periods. Moreover, the customers can opt-out of the service any time, making revenue predictions inconsistent and causing volatility in the business.
Emerging Victorious: Lessons from Successful SaaS Implementation
The SaaS model, nonetheless, has its share of success stories for us to learn from too. Netflix is an exemplary example of a triumphant subscription-based model. Despite the competition, Netflix managed to stay afloat by continuously reinventing its platform and keeping its offerings fresh and diverse. Similarly, Adobe successfully transitioned from selling boxed software to a cloud-based subscription approach. The company focused on providing value to its customers rather than just selling software. Their in-depth understanding of customers' requirements and delivering according to that made them win customer trust and thereon their loyalty. These examples illustrate that understanding customer needs, continuous technology adaptability, and embedding value in the services are the keys to a sustainable and profitable SaaS business.
Venturing into the Future: Innovative Ways to Leverage SaaS Business Models
The Shift is Imminent
Are we on the brink of a revolutionary shift in how we perceive software as a service (SaaS) companies? The conventional SaaS model, fueled by high demand and even higher scalability, has garnered unprecedented success in the digital world. However, this model exists in an ever-evolving and dynamic technological landscape, where innovation doesn't just drive progress but defines survival. This is where current SaaS companies stand, eyeing the precipice of the conventional model's limitations, ready to leap into a future laden with potentials.
Limitations: A Prime Catalyst
One of the main issues predicating on the need for evolution can be identified as the inability of the traditional model to foster customer engagement beyond transactional interaction. The focus primarily remains on recurrent software purchases, which although maintains revenue streams, doesn't necessarily ensure long-term client relationship and user loyalty. Moreover, with new SaaS startups mushrooming every other day, the competition has grown fiercer, and this model's 'one-size-fits-all' approach becomes progressively ineffective at ensuring profitability. In truth, while the traditional SaaS model has definitely paved the path, its limitations are starting to hinder more than help businesses.
Blueprinting The Future
Enter, pioneering SaaS companies that are challenging the status quo and disrupting the industry by exploring different ways to drive growth. Okta, a leading identity management company, embraced a more personalized and flexible pricing strategy, shifting away from a rigid transaction-based model. Slack, on the other hand, correctly identified the value of customer-centricity and positioned its service as a community rather than just a communication tool. They leveraged user-generated content to enhance customer engagement, thereby creating a loyal user base. Even market giants like Adobe pivoted from their classical software licensing model to a subscription-based system, facilitating a more user-friendly approach and driving consistent revenue. These examples underline the significant shift from product-centricity to customer-centricity, reflecting a broader industry trend. The new-age SaaS model doesn't just sell a product; it tells a story, builds a community, and forges lasting customer relationships. And in doing so, it breaks the boundaries of traditional SaaS models, paving the way for a more innovative and sustainable future.
Conclusion
Have you ever thought about the sustainability of your organization's commercial strategy in an environment increasingly shifting towards Software as a Service? The digital landscape shifts with the blink of an eye, and business models need to stay ahead to be competitive. Following the SaaS business model offers organizations seamless scalability, recurring revenue streams, and the opportunity to build stronger customer relationships. It is increasingly shaping up to be a crucial factor for companies to sustain in the long run. Embracing this model will not just provide an edge amid fierce competition, but also secure operational efficiency with minimized infrastructure costs.
We wholeheartedly extend an invitation for you to support our blog for more insights into changing business dynamics. This platform is a central space for those fascinated by cutting-edge business strategies and their potential impacts. By choosing to follow our insights, you link arms with a passionate and curious community exploring the future of businesses in the digital age. We commit to delivering the up-to-the-minute trends and the most innovative strategies to navigate the complexities of today's digital business environments.
Anticipate future posts in the coming weeks where we take an in-depth look at SaaS as we examine its full potential in delivering enduring business solutions. We will dissect successful case studies and offer insights into practical steps for setting up or transitioning into the SaaS model. So stay tuned! Your digital success story begins here, and we are excited to be a part of your journey towards the pioneering app revolution. It's time to make a pivotal shift in your business strategy, and our upcoming content will guide you every step of the way.
F.A.Q.
1. What does the SaaS business model involve?
The SaaS business model involves delivering software through a cloud-based service on a subscription basis. This means that instead of purchasing the software outright, customers can access it over the internet and are billed regularly.
2. Why is the SaaS business model considered beneficial?
The SaaS business model is considered beneficial because it provides a predictable revenue stream for companies and the software is easily scalable. Additionally, it offers flexibility to customers as they can avail the services as per their needs and discontinue whenever they wish without worrying about losing a large upfront investment.
3. Which industries typically use a SaaS business model?
Many industries have embraced the SaaS business model including technology, finance, healthcare, education and retail. These businesses use SaaS solutions for a variety of purposes, such as customer relationship management (CRM), human resource management (HRM), and content management.
4. What paperwork is necessary to implement a SaaS business model?
To implement a SaaS business model, you will need a detailed service level agreement (SLA) which outlines the services offered, performance metrics, and customer rights. Additionally, privacy and data security agreements are important to define the protection measures and data control processes.
5. What are some challenges that may arise with a SaaS business model?
Challenges that may arise with a SaaS business model include data security concerns, reliance on a stable internet connection, and integration with other software systems. It's also important to manage customer churn rates, since the business model relies on low-cost, ongoing subscriptions.